Chiuso per ferie
Since 2000 the US, UK and even Spain have improved their economy. Spain is a quite special case; they hit rock bottom in 2008, however their economy has grown stronger in the last 7 years. Germany and France also have gotten stronger the last couple of years. But Italy (and Greece) actually went back and shrank its economy again.
I have been living in Milan -the financial heart of Italy- and I have seen the country from the inside now. Here, I would like to reflect on the current situation of Italy but mainly, the italians.
Italy is a country I can't understand.
I have travel most of the north and I have been to touristic cities such as Venice or Torino, in the heart of the Piedmontese region. What have I seen? chinese, bangladeshi, indians and africans running the businesses. It is not weird to eat a pizza cooked, not by the world famous pizzaiolo, but for a thin-boring-looking chinese guy.
Actually, let me share with you 2 curious facts about pizza, emblem food fro Italy:
Italy is lacking pizzaiolos. The country spurred a 9 Billion industry and even though unemployment is still quite high, the pizza maker jobs are being taken by asians or latin americans. Italians are eating that pizza, made with... Source
2 out of 3 pizzas made in Italy are "foreigners": the flour, oil, cheese and tomatoes use to make italian pizza are imported, not grown locally. The tomatoes are imported from China, the olive oil comes from Tunisia (and Chile), the flour is made in Italy, Germany or Ukraine. Source
When you go and check the numbers, it is impressive to note two things about foreigners in Italy.
The crisis Italy is going through represents an opportunity for foreigners. Chinese have grown their businesses in Italy in 6.1& (2012-2013 period) while Italians new companies have shrink in -1.6% during the same period.
However, the first place for business creations is not awarded to the chinese (yet), but to Moroccans who lead the way, with 72,014 businesses in Italy, followed by the Romanians, with 67,622. Truly impressive if you ask me. Source
And where do you think that money is being spent? right Watson, that money is spent in those countries, not in Italy. Those are investments that are lost.
And by the way, the Italian government lead by Renzi is trying to get some of this new money by raising taxes to the private sector (which represented 43% of the GDP in 2013). The Prime Minister is doing this by targetign the 2 types of companies that populate the italian landscape
Italians have 2 types of companies:
Requirements for an S.p.A.
Capital. The minimum capital is EUR 120,000. Capital is divided into shares. Different classes of shares, bearing different rights and obligations, may be issued. Founders, shareholders. A sole shareholder may incorporate a corporation. There are no limits on the maximum number, nationality or residence. If a sole shareholder incorporates an S.p.A., the entire share capital must be paid in and specific publicity requirements must be met. Taxes and fees. A flat fee of EUR 120 (EUR 90 online) applies upon registration of a new stock company; annual fees depend on company turnover. There is an annual charge of EUR 309.87 to endorse company books, or EUR 516.46 if a company's capital exceeds EUR 516,456.87. A fixed amount tax of EUR 185 (EUR 155 online) applies to contributions to capital in the form of cash, movable property or companies. Property transfers required to complete contributions in kind may be subject to mortgage tax and land registry tax.
Requirements for an S.r.L. Capital. The minimum capital is EUR 10,000. Founders, quotaholders. A sole quotaholder may incorporate a corporation. There are no limits on the maximum number, nationality or residence of quotaholders. If a sole quotaholder incorporates an S.r.L., all of the corporate capital must be paid in and specific publicity requirements must be met. Taxes and fees. Same as for an S.p.A
According to the money they generate, they pay taxes:
Annual income Tax rate
In between 0 € and 15000 €23%

In between 15000 € and € 28000 27%

In between 28000 € and € 55000 38%

In between 55000 € and € 75000 41%

In excess of € 75000 43%
Read more on this report created by Deloitte
So. One of the main ways Italy has to collect money is by the private sector. And what else are you suppose to do when you are in such situation? Well, you sell your assets.
Alitalia sold a big chunk to Ethiad. Source
Inter the Milan is bought by an Indonesian millionare. Source
FIAT merges with Chrysler, creating the FCA superpower, with headquarters in London. Taxes are no longer paid in Italy, but UK Source
Whirpool buys 60% of the legendary group Indesit Source
Ducati is sold to Audi Source
The french company Lactalis transforms in the biggest dairy products manufacturer in the world after acquiring Parmalat Source
The American company Mohawk buys the groups Marazzi, the global leader of ceramic tiles Source
The Mizkan Group acquires Ragú and Bertolli, two italian food giants Source
And not even the luxury sector has been safe: Loro Piana, Bulgari, Valentino, Brioni, Poltrona Frau and Pomellato have been sold in the last 5 years.
Giuseppe di Taranto, a professor at Luiss university in Rome, said Italy's weak economy could be largely blamed for Italian companies being the acquired rather than the acquirer.
"The result of the crisis is that companies from richer countries are shopping in poorer countries, and Italy is one of those poorer countries," he said. Source: FT
This sounds like the worst nightmare, uh? And it is not the end.
How much do they need to pay on debt? 2 trillion €. Yes sir, you read right. Only Greece is worse. And Renzi said he could and would pay off that debt.
And what happens to micro level? To the people, whose GDP per capita is lower than 2007? They are on holidays. Take a look at Milan now, and you will see the infamous "Chiuso per ferie" everywhere.
As I businessman, I think: If my country is struggling, if i'm generating jobs, if i'm in Italy (still a huge tourist destination) and tourist keep on coming here… then HOW COME SHOULD I CLOSE!?
Now Italy, help me out with this:
English: You should really try to speak english for business sake. Even better, start enrolling on mandarin classes. Source
"In Italia 2 persone su 3 non sanno l'inglese; il problema è grave soprattutto nel settore pubblico"
Not happy: Just ranked 45th in the world happiness ranking. I truly can understand the reasons behind this, but still. You -as Italy- mean joy to the world. Source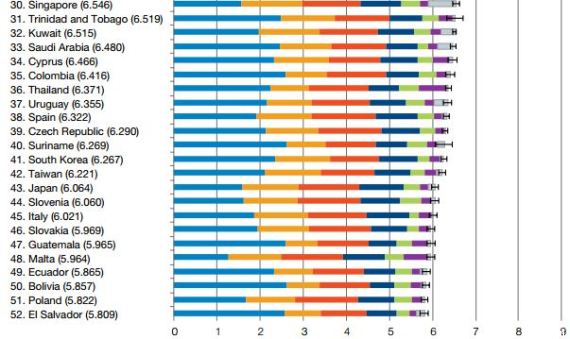 A couple of days ago, I was lucky enough to visit the famous city of Venice.The city was flourishing, but all the parallels streets were death. So what the hell do you do when you are Italy, you have a great connectivity, you produce raw material (although you are cooking the pizza with foreign aliments) and you own brand names like: tourism, food, luxury and design?
How do you bounce back? How do you capitalize on those chinese, africans and indians taking over? Why on God's green earth would you choose to close your store?
Work! as hard as possible, double shifts, export, improve the customer journey, create the need! As I write this, I can tell you that Korea is experimenting with the next wave of factory workers: cyborgs, or simple guys wearing exoskeletons that gives them super powers. Source
Can you believe it? The came up with kaizén, lean, six sigma and then they are stepping up the game with cyborgs! While Italy is still producing the same stuff and laying off its people.
What is Italy good at now?
Energy and natural resources (huge asset), transport, manufacturing, agriculture and finance. Not bad, not bad at all. But times have change and as the book "Factory man" puts it (read it if you have time) things have change and the sleeping dragon of Asia has awoken and its damn hungry.
With this scenario, how come do you close for holidays? Double shift, hire teenagers, rely on e-commerce, use candles, rearrange contract with providers having a share risk amendment, use freaking adwords but man, get the frick out off that chair, forget the beach for the next 5 years and sell hard. Otherwise, the storm will get only darker.